Detailed Description
Stone crushers are also called rock breakers, which are essential equipments in mining crushing process. According to different working principles, the major types of stone crusher machines are jaw crusher, impact crusher, cone crusher, hammer crusher, roll crusher, compound crusher, etc.
It can also be divided into large and small stone crusher machines according to specific sizes of machines. Rock crusher is very suitable for crushing and reshaping of ores with low or medium hardness, which is widely used in such industries as mining, cement plant, refractory materials, building sand, metallurgy and so on. it has a better effect in crushing quartz sand, carborundum, bauxite and other materials that are hard to crush and process.
| | | |
| --- | --- | --- |
| | | |
| Jaw Crusher | Cone Crusher | Impact Crusher |
Applications of Fote Stone Crusher
In mining processing process, stone crushing machine is mainly used for primary crushing of stones before ore beneficiation, thus improving production efficiency and reducing difficulty and energy consumption of ore beneficiation. In the field of engineering construction, rock crushing machine is mainly used for stone crushing and reshaping, which is important auxiliary equipment of asphalt mixing plant and concrete mixing station.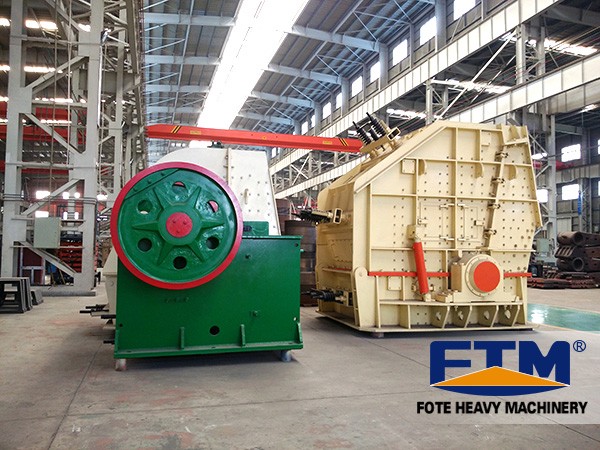 Main Features of Fote Rock Breakers
1. Hydraulic device makes maintenance of rock breakers more convenient, which greatly improves the ability of continuous production.
2. Self-checking lubrication system can ensure the lubrication of important parts, thus guaranteeing safe production.
3. Totally enclosed production mode can improve safety factors of workers during operation and reduce production risk.
4. Triangle belt transmission makes kinetic energy output is more smooth, thus reducing unit energy consumption.
5. Stone crusher has big reduction ratio, which has dual functions of fine crushing and coarse grinding.
6. Simple structure, easy installation and maintenance, low operation cost.
7. Small influence of moisture content of materials.
8. Cubic shape of finished products, low needle flake content, suitable for aggregate reshaping, artificial sand making and aggregate production of high-grade highways.
9. Big stacking density of product and little iron pollution.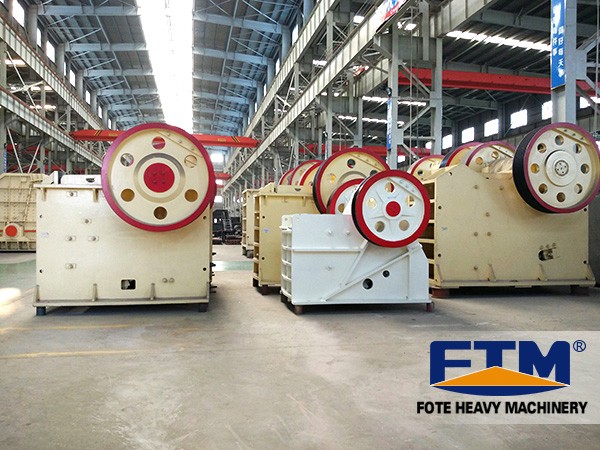 Fote Machinery is a professional manufacturer and supplier of stone crushers, if you want to know more information about stone crusher market price, please sent us emails to info@sinoftm.com or leave us a message, we will contact you as soon as possible.
Technical Parameters
Model

Feed opening
(mm)

Max.feeding size
(mm)

Adjusting range of discharge opening
(mm)

Processing capacity
(t/h)

Rotation speed of eccentric shaft
(r/min)

Motor power
(kw)

Total weight
(t)

Dimensions
(L×W×H)
(mm)

PE-150×250
150×250
125
10-40
1-3
250
4P 5.5
0.8
720×660×850
PE-200×300
200×300
180
15-50
2-6
260
4P 7.5
1.2
910×750×990
PE-200×350
200×350
180
18-70
3-10
260
4P 11
1.5
1000×870×990
PE-250×400
250×400
210
20-60
5-21
300
6P 15
2.8
1300×1090×1270
PE-400×600
400×600
340
40-100
16-64
275
6P 30
7
1730×1730×1630
PE-500×750
500×750
425
50-100
40-110
275
6P 55
12
1980×2080×1870
PE-600×750
600×750
500
150-200
80-240
275
6P 55
15.8
2070×2000×1920
PE-600×900
600×900
500
65-160
50-160
250
6P 55
17
2190×2206×2300
PE-750×1060
750×1060
630
80-140
110-320
250
8P 110
29
2660×2430×2800
PE-800×1060
800×1060
640
130-190
130-330
250
8P 110
29.8
2710×2430×2800
PE-830×1060
830×1060
650
160-220
150-336
250
8P 110
30.7
2740×2430×2800
PE-870×1060
870×1060
660
200-260
190-336
250
8P 110
31.5
2810×2430×2800
PE-900×1060
900×1060
685
230-290
230-390
250
8P 110
33
2870×2420×2940
PE-900×1200
900×1200
750
95-165
220-380
200
8P 110
52
3380×2870×3330
PE-1000×1200
1000×1200
850
195-265
315-500
200
8P 110
55
3480×2876×3330
PE-1200×1500
1200×1500
1020
150-350
400-800
180
6P 160-220
100.9
4200×3300×3500
PE-1500×1800
1500×1800
1200
220-350
500-1000
180
8P 280-355
139
5160×3660×4248
PEX-150×750
150×750
120
18-48
8-25
320
4P 15
3.8
1200×1530×1060
PEX-250×750
250×750
210
25-60
13-35
330
6P 22
5.5
1380×1750×1540
PEX-250×1000
250×1000
210
25-60
16-52
330
6P 30
7
1560×1950×1390
PEX-250×1200
250×1200
210
25-60
20-61
330
6P 37
9.7
2140×1660×1500
PEX-300×1300
300×1300
250
20-90
16-105
300
6P 55
15.6
2720×1950×1600