Detailed Description
Vibrating screen has very wide application in ore beneficiation and stone production line as well as coal dressing process. Vibrating Screen is used to separate materials into various sizes for further processing or for end use dependent on your conditions. Vibrating screens can divide stone materials with different diameter and in the sand making production line, vibrating screen can also be called gravel screen.
Vibration screen is most commonly seen in sand making production line and it has many layers of screen net, so that it can divide the particles with different diameter for one time and the working efficiency is very high. As for circular vibrating screen, the electromotor will provide power and drive the eccentric exciter to rotate with high speed, which will produce centrifugal force to make the screen box have circular vibration.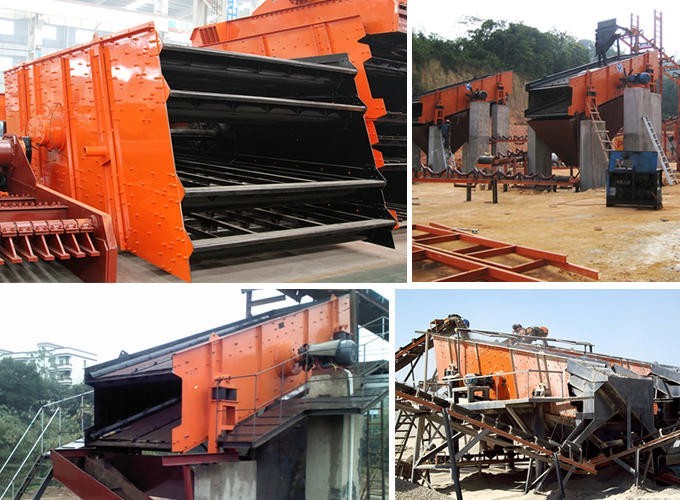 Vibrating Screen Benefits
•
Improve your product purity
- Eliminate oversized material from your powders and liquids
• Increase your production - Double your throughput with half the size. These vibrating screens achieve a higher throughput per unit mesh area compared to conventional vibrating screens and can achieve throughput rates up to 60,000 kg/hour
• Reduce your down-time - The Russell Compact Sieve can be easily stripped down and cleaned without tools
• Eliminate dust and fumes - Enclosed screening means total containment
• Fits into smaller spaces - These vibrating screens can fit easily into existing installations and areas of limited headroom
• Lowers noise levels - A solid rubber suspension gives the machine a quiet operation - typically as low as 70dBA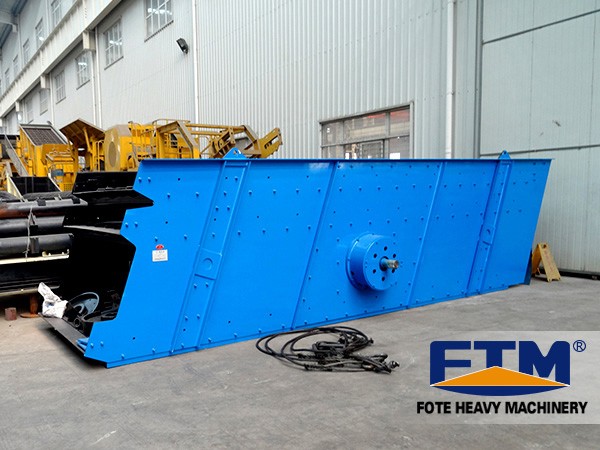 Types of Fote Vibrating Screens
There are two types of vibrating screen in Fote Machinery, namely, round or circular vibrating screen and linear vibrating screen. The Following pictures are round vibrating screen and linear vibrating screen.
A round vibrating screen should be started without materials on the screen surface, and it should be fed with materials after it begins stable operation. Before stopping it, first stop feeding, and after all the materials are screened out, then stop the machine. In the working process, regularly observe the running condition of the round vibrating screen, if there is anything abnormal or there is abnormal sound, immediately stop the machine to check it, find out the reason and eliminate the failure.
Technical Parameters
Model
Sieve
layer
Sieve
area
(m²)
Mesh
size
(mm)
Max.
feeding
size
(mm)
>Processing
capacity
(m³/h)
Vibrating
Frequency
(r/min)
Double
amplitude
(mm)
Motor
power
(kw)
Sieve
obliquity
(°)
Sieve
specification
(mm)
>Dimensions
(L×W×H)
(mm)
2YK1225
2
6
4-50
200
8-60
800-970
8
6P 5.5KW
20
1200×2500
2930×1860×870
3YK1225
3
9
4-50
200
10-70
800-970
8
6P 5.5KW
20
1200×2500
3070×1860×1210
2YK1230
2
7.2
4-50
200
12-78
800-970
8
6P 7.5KW
20
1200×3000
3430×1860×870
3YK1230
3
10.8
4-50
200
13-80
800-970
8
6P 7.5KW
20
1200×3000
3570×1860×1210
2YK1237
2
8.88
4-50
200
15-86
800-970
8
6P 7.5KW
20
1200×3700
4050×1860×870
3YK1237
3
13.32
4-50
200
16-90
800-970
8
6P 7.5KW
20
1200×3700
4270×1860×1210
2YK1535
2
10.5
5-50
200
20-125
800-970
8
6P 11KW
20
1500×3500
4120×2210×1230
3YK1535
3
15.75
5-50
200
21-125
800-970
8
6P 11KW
20
1500×3500
4360×2210×1610
2YK1545
2
13.5
5-50
200
22-150
800-970
8
6P 11KW
20
1500×4500
5120×2210×1230
3YK1545
3
20.25
5-50
200
22-150
800-970
8
6P 15KW
20
1500×4500
5360×2210×1610
4YK1545
4
27
5-50
200
22-155
800-970
8
6P 15KW
20
1500×4500
5930×2210×2060
2YK1548
2
14.4
5-50
200
22.5-162
800-970
8
6P 11KW
20
1500×4800
5420×2210×1230
3YK1548
3
21.6
5-50
200
22.5-162
800-970
11
6P 15KW
20
1500×4800
5660×2210×1610
4YK1548
4
28.8
5-50
200
22.5-162
800-970
8
6P 18.5KW
20
1500×4800
6230×2210×2060
2YK1848
2
17.28
5-80
200
25-206
750
8
6P 18.5KW
20
1800×4800
5420×2550×1420
3YK1848
3
25.92
5-80
200
32-276
750
8
6P 18.5KW
20
1800×4800
5660×2550×1780
4YK1848
4
34.56
5-80
200
32-285
750
8
6P 22KW
20
1800×4800
6290×2550×2160
2YK1854
2
19.44
5-80
200
32-312
800-970
8
6P 22KW
20
1800×5400
5960×2550×1420
3YK1854
3
29.16
5-80
200
32-312
800-970
8
6P 22KW
20
1800×5400
6260×2550×1780
4YK1854
4
38.88
5-80
200
32-336
800-970
8
6P 22KW
20
1800×5400
6830×2550×2160
2YK2160
2
25.2
5-100
200
50-475
970
8
6P 30KW
20
2100×6000
6720×2840×1530
3YK2160
3
37.8
5-100
200
50-475
970
8
6P 30KW
20
2100×6000
7030×2840×1910
4YK2160
4
50.4
5-100
200
50-497
970
8
6P 37KW
20
2100×6000
7300×2840×2380
2YK2460
2
28.8
5-100
200
65-550
970
8
6P 30KW
20
2400×6000
7020×3140×1530
3YK2460
3
43.2
5-100
200
70-620
970
8
6P 37KW
20
2400×6000
7300×3140×1910
4YK2460
4
57.6
5-100
200
80-680
970
8
6P 45KW
20
2400×6000
7600×3140×2380
2YK2870
2
39.2
5-100
200
120-680
750
8
8P 22×2KW
20
2800×7000
7600×4320×1620
3YK2870
3
58.8
5-100
200
180-720
750
8
8P 22×2KW
20
2800×7000
7800×4320×2120
2YK3072
2
43.2
5-100
200
200-700
750
8
8P 22×2KW
20
3000×7200
7800×4520×1750
3YK3072
3
64.8
5-100
200
230-800
750
8
8P 22×2KW
20
3000×7200
8000×4520×2300