Detailed Description
Product Introduction of Wheel Mounted Mobile Impact Crusher
Recently our company researches and develops a star product-wheel mounted mobile impact crusher which adopts the latest manufacturing technology and that is equipped with high-quality high chromium plate hammer and wear-resisting impact lining board.
Tyre mobile impact crusher has big crushing ratio, and the excellent features of good granularity of the final products makes this set of crusher mobile equipment has wider application range.
Application Range of Wheeled Mobile Impact Crusher
Tyre mobile impact crusher is mainly used in the material processing industries that needs regular material transportation such as metallurgy, chemistry, building material and water and electricity for processing the stone materials with flowability in highway, railway and water and electricity projects. Customers can choose different configuration means according to the types of the raw materials to be processed, crushing size and the requirement for the final products. Wheel mobile primary impact crusher is especially suitable to be used in small crushing sites and for processing and crushing construction waste.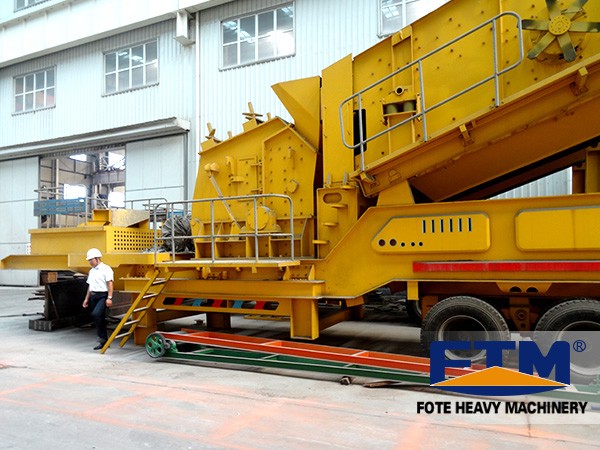 Performance Features of Wheel Mounted Mobile Impact Crusher
1. The equipment configuration is very flexible, as it can be independently used for production and combined with coarse crushing equipment for compound work.
2. Tyre mobile impact crusher has relatively high vehicle-mounted chassis and small radius of turning circle, making it convenient to drive in rugged and bad road environment of the crushing site.
3. The granularity of the produced final products is better and the whole working efficiency of tyre mobile impact crusher station is evidently improved.
4. The material transportation fees and production cost are reduced.
5. The installation of this portable breaker is integrated and the space layout is reasonable and compact, thus saving time and space for onsite construction.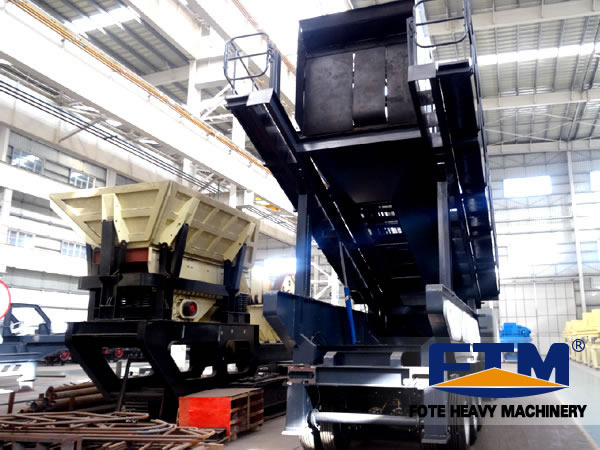 Working Principle of Tyre Mobile Impact Crusher
When using tyre mobile impact crusher for crushing work, the materials to be crushed are directly crushed by the impact crusher to the medium or fine granularity, and then the crushed materials will go through the closed screening cyclic system formed by circular vibrating screen to directly become ideal final sand, and are conveyed to the designated placed by belt conveyor. According to the specific needs, this mobile crusher can be equipped with coarse crusher for secondary crushing and timely processing the materials.
Technical Parameters
| | | | | | |
| --- | --- | --- | --- | --- | --- |
| Model | FTM938F1210 | FTM938F1214 | FTM1149F1315 | FTM1349F1110 | FTM1349F1315 |
| Transportation Length(mm) | 12000 | 12000 | 13900 | 15450 | 15450 |
| Transportation Width(mm) | 2550 | 2550 | 2900 | 2950 | 2950 |
| Transportation Height(mm) | 3900 | 3900 | 4450 | 4500 | 4500 |
| Maximum Length(mm) | 12500 | 12500 | 13900 | 15450 | 15450 |
| Maximum Width(mm) | 3250 | 3260 | 3250 | 3250 | 3250 |
| Maximum Height(mm) | 5100 | 5200 | 5200 | 5200 | 5200 |
| Weight(t) | 39 | 44 | 54 | 62 | 62 |
| Crusher Model | PF-1210 | PF-1214 | PF-1315 | HD1110 | HD1315 |
| The Maximum Feeding Size(mm) | 350 | 350 | 500 | 400 | 700 |
| Production Capacity(t/h) | 70-130 | 100-180 | 130-250 | 112 | 280 |
| Vibrating Feeder | ZSW950×3800 | ZSW950×3800 | ZSW110×4900 | ZSW130×4900 | ZSW130×4900 |
| Main Belt Conveyor | B800×8.5M | B800×8.5M | B1000×9.5M | B800×11M | B1200×11M |
| Side-opening Belt conveyor(Optional) | B500×3.2M | B500×3.2M | B650×4M | B650×4M | B650×4M |
| Genset(Optional) (kw) | 320 | 320 | 400 | 320 | 440 |
| Iron Separator (Optional)(kw) | RCYD(C)-8 | RCYD(C)-8 | RCYD(C)-10 | RCYD(C)-8 | RCYD(C)-12 |