Detailed Description
Product Introduction of Wheel Mounted Mobile Jaw Crusher
Wheel mounted jaw crusher is a rock crushing plant newly researched and launched by our company and its composing parts include machine frame, jaw crusher, vibrating feeder, vibrating screen, conveyor belt, electric motor and control cabinet. The strong crushing capacity of jaw crusher greatly improves the function of the tyre mobile jaw crusher.
Due to its unique tyre design, tyre mobile jaw crusher can carry out the movable crushing work even in rugged mountainous region, thus really providing customers with simple, convenient, highly efficient and low-cost rock crusher and it is one of the best mobile crushing plants at present.
Application of Mobile Jaw Crusher
Tyre mobile jaw crusher is mainly used in such industries as metallurgy, chemistry and building material industry especially for the flow crushing work of highway, railway and water and electricity projects. Customers can choose different configuration means according to the types of the raw materials to be processed, crushing size and the requirement for the final products.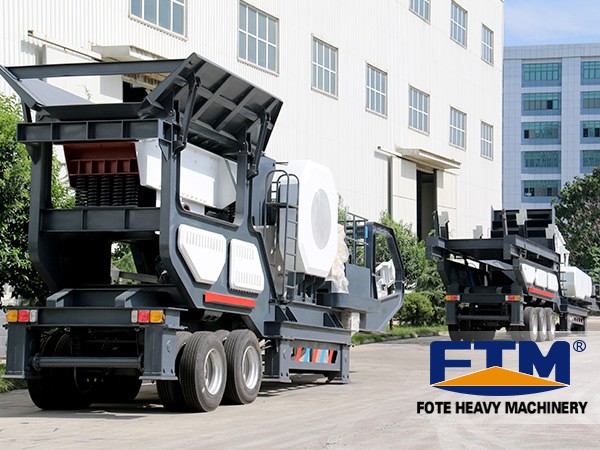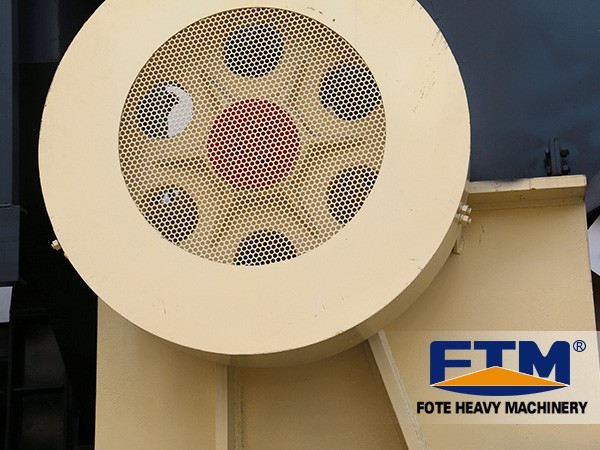 Performance Features of Wheel Mounted Mobile Jaw Crusher
1. Tyre mobile jaw crusher belongs to high performance mobile crushing station with big crushing ratio and strong crushing capacity.
2. The machines of this mobile crusher are integrated and the structure is compact, and it has low requirement for the working site.
3. The equipment adopts vehicle-mounted installation support and the equipment can be convenient and quickly stationed in the site.
4. The steering axis of traction is convenient for highway transportation and site penetration.
5. The short wheel base and small radium of turning circle make it convenient to drive in rugged and bad road environment of the crushing site.
6. Tyre mobile jaw crusher eliminates the barriers caused to the crushing process by the crushing site, environment and basic configuration.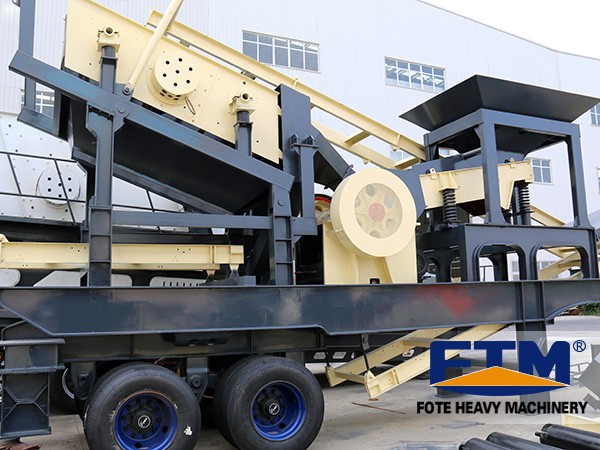 Working Principle of Wheeled Mobile Jaw Crusher
The materials are evenly sent into the crusher, jaw crusher will carry out the primary crushing and vibrating screen will help to form a closed-circuit system to realize the cyclic crushing of the materials, and the final products will be conveyed by conveyor belt for continuous crushing. According to the actual production needs of the customers, tyre mobile jaw crusher can be equipped with other crushing machines to make the operation more convenient and flexible.
Technical Parameters
| | | | | |
| --- | --- | --- | --- | --- |
| Model | FTM938HD86 | FTM1149HD98 | FTM1349HD110 | FTM1349HD125 |
| Transportation Length(mm) | 12600 | 13500 | 14500 | 15200 |
| Transportation Width(mm) | 2600 | 2700 | 2800 | 2900 |
| Transportation Height(mm) | 3870 | 4200 | 4450 | 4500 |
| Maximum Length(mm) | 12500 | 14000 | 16100 | 16700 |
| Maximum Width(mm) | 4100 | 4500 | 5100 | 5100 |
| Maximum Height(mm) | 4100 | 4900 | 5000 | 5300 |
| Weight(t) | 39 | 57 | 55 | 65 |
| Tire Configuration | Biax Fitted | Triaxial Fitted | Triaxial Fitted | Triaxial Fitted |
| Jaw Crusher | HD86 | HD98 | HD110 | HD125 |
| Maximum Feeding Size(mm) | 500 | 550 | 660 | 800 |
| Discharge Opening Size(mm) | 50-150 | 75-175 | 100-200 | 125-225 |
| Capacity(t/h) | 85-275 | 110-350 | 215-510 | 280-650 |
| Vibrating Model | ZSW380×95 | ZSW420×110 | ZSW490×130 | ZSW490×130 |
| Main Belt Conveyor | B800×8.5M | B1000×9.5M | B1000×11M | B1200×11M |
| Side-opening Belt conveyor(Optional) | B500×3M | B650×3.5M | B650×4M | B650×4M |
| Genset(Optional) (kw) | 200 | 250 | 270 | 400 |
| Iron Separator (Optional) | RCYD(C)-8 | RCYD(C)-10 | RCYD(C)-10 | RCYD(C)-12 |