Detailed Description
Portable crusher is mainly used for processing operations which often require relocation of materials in metallurgy industry, chemical industry, building materials industry, water and electricity sectors. Especially for the liquidity stone operations of highway, railway, hydropower projects and others, customers can adopt a variety of configuration according to the types of raw materials and sizes of finished product.
Portable crusher is suitable for crushing a variety of minerals or rocks with less than 250Mpa compressive strength, such as granite, basalt, limestone, cobble, cement clinker, quartz, iron ore, bauxite, construction waste, glass, coal, concrete aggregate, coal gangue, calcite, marble and so on. Here, we have listed some materials' pictures of portable crusher.
| | | |
| --- | --- | --- |
| | | |
| Basalt | Calcite | Coal Gangue |
| | | |
| Limestone | Construction Waste | Concrete Aggegate |
The Classification of Portable Crushing Plant
Fote portable crusher price is reasonable, and the specifications of the tyre portable crushers for sale are complete, which can be divided into the mobile jaw crusher, mobile impact crusher, mobile cone crusher and so on. At the same time, we can put forward multi combination according to expanded demand for the high-end customers to maximum extent. It also can be configured with the primary, secondary and tertiary crushing of materials according to the different needs of customers, as well as the portfolio optimization of crushing and screening systems.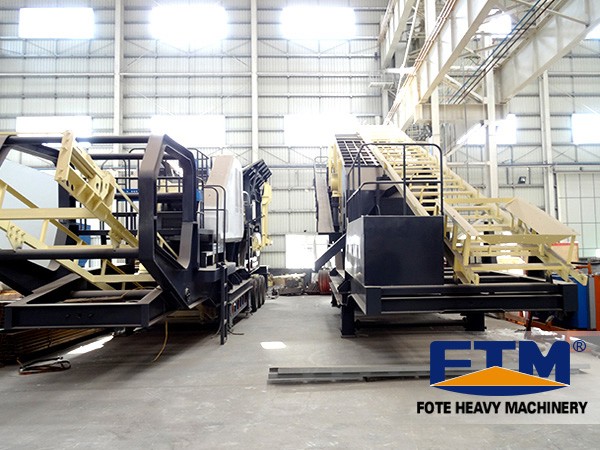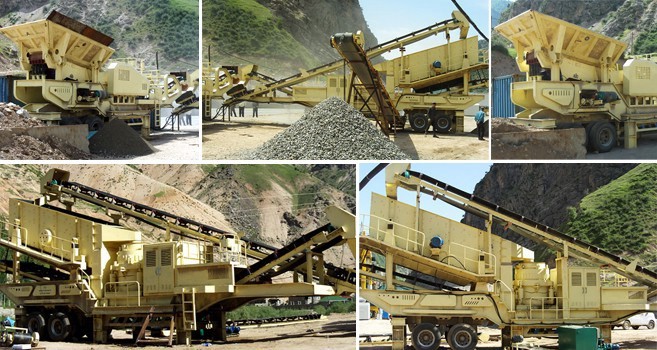 The Superior Features of Mobile Crusher
1. The jaw crusher series, impact crusher series and cone crusher series high performance crushers;
2. The integration of the feeder, crusher, belt conveyor and vibrating screen;
3. The traction of the steering axis, which is convenient for highway transportation and field depth;
4. The vehicle-loaded installation support, convenient site residence;
5. Vehicle mounted power supply, and the integration of motor and control box;
6. Reduce the transportation costs of materials. The rubber tyred mobile crusher plant can realize the first class crushing of materials based on the principle of "close to the material processing", which can prevent the materials from being transferred to the scene and then for crushing. It has left out the intermediate links of the operations, which greatly reduces the transport costs of materials;
7. Strong adaptability and flexible configuration. The rubber tyred mobile crusher station provides the simple configuration with low costs for customers. It cannot only carry out a single group of independent operation, but also can form a joint operation on the basis of the coarse and fine crushing systems.
Technical Parameters
MOBLIE IMPACT CRUSHER TECHICAL PARAMETERS
| | | | | | |
| --- | --- | --- | --- | --- | --- |
| Model | FTM938F1210 | FTM938FW1214 | FTM1149F1315 | FTM1349HD1110 | FTM1349HD1315 |
| Transportation Length(mm) | 12000 | 12000 | 13900 | 15450 | 15450 |
| Transportation Width(mm) | 2550 | 2550 | 2900 | 2950 | 2950 |
| Transportation Height(mm) | 3900 | 3900 | 4450 | 4500 | 4500 |
| Maximum Length(mm) | 12500 | 12500 | 13900 | 15450 | 15450 |
| Maximum Width(mm) | 3250 | 3260 | 3250 | 3250 | 3250 |
| Maximum Height(mm) | 5100 | 5200 | 5200 | 5200 | 5200 |
| Weight(t) | 39 | 44 | 54 | 62 | 62 |
| Crusher Model | PF-1210 | PF-1214 | PF-1315 | HD1110 | HD1315 |
| The Maximum Feeding Size(mm) | 350 | 350 | 500 | 400 | 700 |
| Production Capacity(t/h) | 70-130 | 100-180 | 130-250 | 112 | 280 |
| Vibrating Feeder | ZSW950×3800 | ZSW950×3800 | ZSW110×4900 | ZSW130×4900 | ZSW130×4900 |
| Main Belt Conveyor | B800×8.5M | B800×8.5M | B1000×9.5M | B800×11M | B1200×11M |
| Side-opening Belt conveyor(Optional) | B500×3.2M | B500×3.2M | B650×4M | B650×4M | B650×4M |
| Genset(Optional) (kw) | 320 | 320 | 400 | 320 | 440 |
| Iron Separator (Optional)(kw) | RCYD(C)-8 | RCYD(C)-8 | RCYD(C)-10 | RCYD(C)-8 | RCYD(C)-12 |
MOBLIE JAW CRUSHER TECHNICAL PARAMETERS
| | | | | |
| --- | --- | --- | --- | --- |
| Model | FTM938HD80 | FTM1149HD98 | FTM1349HD110 | FTM1349HD125 |
| Transportation Length(mm) | 12600 | 13500 | 14500 | 15200 |
| Transportation Width(mm) | 2600 | 2700 | 2800 | 2900 |
| Transportation Height(mm) | 3870 | 4200 | 4450 | 4500 |
| Maximum Length(mm) | 12500 | 14000 | 16100 | 16700 |
| Maximum Width(mm) | 4100 | 4500 | 5100 | 5100 |
| Maximum Height(mm) | 4100 | 4900 | 5000 | 5300 |
| Weight(t) | 39 | 57 | 55 | 65 |
| Tire Configuration | Dual-axial | Dual-axial | Dual-axial | Dual-axial |
| Jaw Crusher | HD80 | HD98 | HD110 | HD125 |
| Maximum Feeding Size(mm) | 500 | 550 | 660 | 800 |
| Discharge Opening Size(mm) | 50-150 | 75-175 | 100-200 | 125-225 |
| Capacity(t/h) | 85-275 | 110-350 | 215-510 | 280-650 |
| Vibrating Model | ZSW380×95 | ZSW420×110 | ZSW490×130 | ZSW490×130 |
| Main Belt Conveyor | B800×8.5M | B1000×9.5M | B1000×11M | B1200×11M |
| Side-opening Belt conveyor(Optional) | B500×3M | B650×3.5M | B650×4M | B650×4M |
| Genset(Optional) (kw) | 200 | 250 | 270 | 400 |
| Iron Separator (Optional) | RCYD(C)-8 | RCYD(C)-10 | RCYD(C)-10 | RCYD(C)-12 |