Detailed Description
Crawler mobile crusher is a kind of mobile crushing and screening plant which is driven by the full hydraulic pressure and walking with the chassis. It has high performance, high reliability and beautiful appearance, which has reached the international level of similar products. Fote crawler mobile crusher is widely applied to the crushing, screening and other operations for the construction of bridges and roads, buildings, metallurgy, energy, and other departments.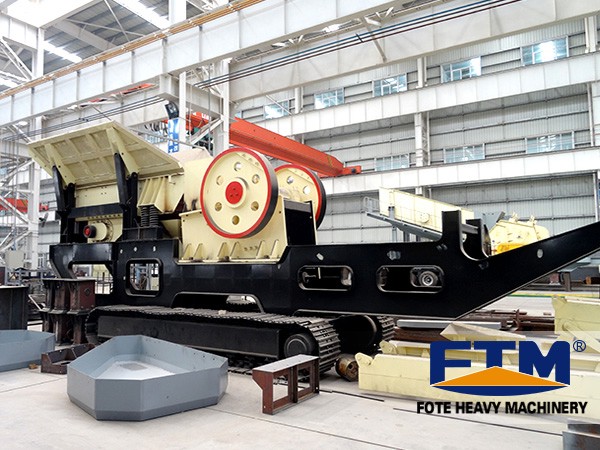 It is a new kind of mobile crusher with the combination of the advantages of the most advanced and stable mobile crushers in the world.
The Classification of Crawler Type Mobile Crusher
Crawler type mobile crusher mainly adopts a jaw crusher and impact crusher, with screening and without screening types; closed-loop circuit. The crusher can be divided into four series – crawler type mobile cone crusher, crawler type mobile jaw crusher, crawler type mobile impact crusher and crawler type mobile screen station.
Crawler Mobile Crusher Application:
1. It is widely used in the field of mining, coal mine and construction waste recycling, and performs well on the site of earthwork, urban infrastructure construction, road construction and construction field.
2. Portable crawler crushing and screening plant has the feature of multifunction operation.
3. Processing topsoil and other materials, separating viscous concrete aggregate, applicable for construction and demolition industry, quarrying industry and screening after crushing.
Applicble Materials of Crawler Mobile Crusher
Cobble, rock (limestone, granite, diabase, basalt, andesite, etc.), ore tailings, construction waste, etc.

| | | |
| --- | --- | --- |
| | | |
| Andesite | Granite | Coal |
| | | |
| Ore | Cement Clinker | Construction Waste |
Performance Features of Crawler Mobile Crusher
1. It has the advantages of light weight, small size, which is suitable for narrow working site;
2. Convenient transportation; Walk with crawler without damage to the road surface; equipped with multi-function equipment, the wide range of applications;
3. The combination of feeding, crushing and conveying equipment. With the optimization of the process, it has excellent performance in rock crushing, aggregate production and open-pit mining operations. It can form a powerful crushing production line with the combination of different models to complete different processing demands;
4. The machine adopts the all wheel drive to realize pivot steering; the standard configuration and quick change device have safety protection function, especially suitable for narrow space and complex regions;
5. Fuel saving, with up to 25% saving rate;
6. It is equipped with power group – the most optimized design;
7. It can achieve climbing work to satisfy the crushing requirements of mine, hydropower station, coal and other engineering projects.
Fote Machinery has crawler mobile crusher for sale, which has reasonable price, top quality and thoughtful services. In addition to the crawler type mobile crusher, we also have rubber–tyred mobile crusher. If you are interested, please leave us a message or send emails to info@sinoftm.com, we will answer you as quickly as we can!
Technical Parameters
Classification
of items
A type Dual power crawler type mobile
feeding and screening plant
B type Dual power crawler type mobile
feeding and screening plant
models
Y3S154GL
Y3S184GL
Y3S186GL
Y3S154BL
Y3S184BL
Y3S186BL
Vibrating
screen(mm)
3YZS1548
3YZS1848
3YZS1860
3YZS1548
3YZS1848
3YZS1860
Main belt
conveyor
Belt conveyor feeding
Sorting and feeding
Belt
conveyor
Feeding
belt
conveyor
B1000×4M
B1000×4M
B1200×4.5M
B1200×3M
B1200×3M
B1200×3M
Main belt
conveyor
B800×5M
B1000×5M
B1000×5M
B1000×8M
B1200×8M
B1200×9M
Under
vibrating
screen
B800×4.5M
B1000×4.5M
B1000×5.5M
B800×7M
B1000×7M
B1000×8M
Left side-opening
belt conveyor
B500×7.3M
B500×7.3M
B650×7.3M
B500×7.3M
B500×7.3M
B650×7.3M
Right side-opening
belt conveyor1
B500×7.3M
B500×7.3M
B650×7.3M
B500×7.3M
B500×7.3M
B650×7.3M
Right side-opening
belt conveyor2
B500×7.3M
B500×7.3M
B500×7.3M
B500×7.3M
B500×7.3M
B650×7.3M
Genset(kw)
120
120
120
120
120
120
Transportation
length(mm)
12300
12300
13500
12000
12000
13200
Transportation
width(mm)
2700
2920
2920
2900
3150
3150
Transportation
height(mm)
3900
3900
3900
3600
3600
3700
Transportation
Weight(t)
28
30
34
28
32
35