Detailed Description
Mobile crusher is also called portable crusher, mobile rock crusher, mobile stone crusher and mobile crushing plant.
It's the large crushing and screening equipment that combines feeding, crushing, screening and conveying, which can realize automatic walking. Design concept of mobile crusher is to completely adapt to different mobile crushing requirements and provide a new operation mode for clients, so as to greatly reduce the operation cost.
The mobile crusher is equipped with the most advanced crushing and screening devices, which is capable of crushing in a complex environment. We can configure the specific crushing equipment for customers according to their actual needs, so as to meet the different production requirements. When compared with ordinary crushers, mobile crusher has the advantages of convenient movement and small floor area, which can directly select the working site.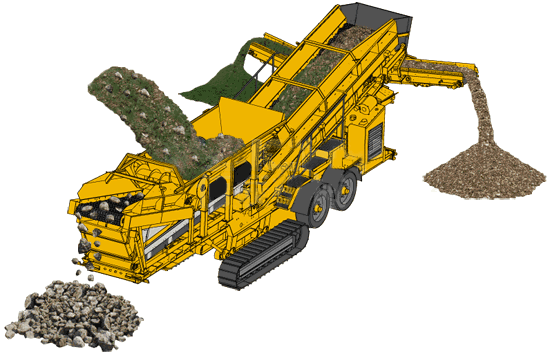 The Structure of Mobile Crushing Plant
Mobile crusher mainly consists of vibrating feeder, jaw crusher, impact crusher, cone crusher, sand making machine, belt conveyor, vibrating screen and other parts, customers can also choose other corresponding crushing equipment according to their own needs.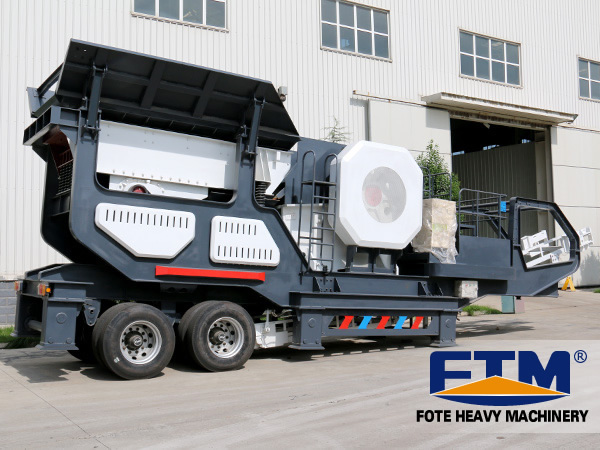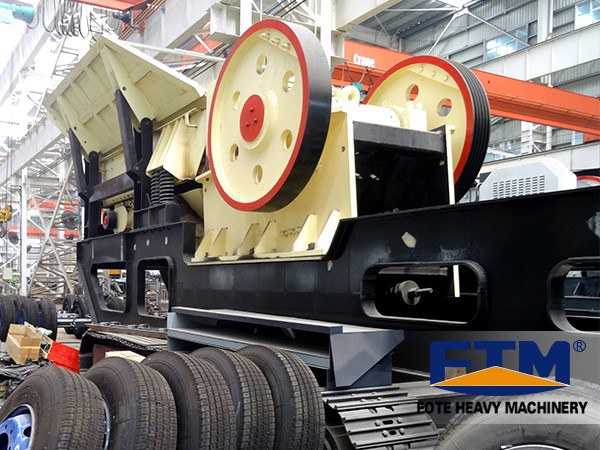 Usage and Types of Mobile Stone Crusher
Mobile stone crusher is widely used for crushing and screening various rocks and ore like cobble, granite, basalt, andesite, iron ore, copper ore, coal, limestone, quartz stone, barite, diabase, gold ore and marble, etc, in the construction waste and mining waste disposal, engineering construction, municipal construction, transportation, mining, large hydropower station construction, coal mine, cement and other sectors.It can be divided into mobile jaw crusher, mobile impact crusher, mobile cone crusher, mobile vsi crusher, etc.
| | |
| --- | --- |
| | |
| Mobile Jaw Crusher | Mobile Impact Crusher |
| | |
| Mobile Cone Crusher | Mobile VSI Crusher |
Advantages of Fote Mobile Crusher
1. Reasonable matching at all levels, flexible combination
2. Easy to move and climb.
3. Remarkable processing ability, big crushing ratio, uniform particle size.
4. High efficiency, reliable performance.
5. Low noise, low energy consumption, energy saving and environmental protection.
6. Reducing the transportation cost of materials.
7. Strong mobility, flexibility and adaptability.
8. Excellent structure, strong adaptability to the complex environment.
9. The integration settings can reduce the operating problems of a single machine.
Technical Parameters
MOBLIE IMPACT CRUSHER TECHICAL PARAMETERS
| | | | | | |
| --- | --- | --- | --- | --- | --- |
| Model | FTM938F1210 | FTM938FW1214 | FTM1149F1315 | FTM1349HD1110 | FTM1349HD1315 |
| Transportation Length(mm) | 12000 | 12000 | 13900 | 15450 | 15450 |
| Transportation Width(mm) | 2550 | 2550 | 2900 | 2950 | 2950 |
| Transportation Height(mm) | 3900 | 3900 | 4450 | 4500 | 4500 |
| Maximum Length(mm) | 12500 | 12500 | 13900 | 15450 | 15450 |
| Maximum Width(mm) | 3250 | 3260 | 3250 | 3250 | 3250 |
| Maximum Height(mm) | 5100 | 5200 | 5200 | 5200 | 5200 |
| Weight(t) | 39 | 44 | 54 | 62 | 62 |
| Crusher Model | PF-1210 | PF-1214 | PF-1315 | HD1110 | HD1315 |
| The Maximum Feeding Size(mm) | 350 | 350 | 500 | 400 | 700 |
| Production Capacity(t/h) | 70-130 | 100-180 | 130-250 | 112 | 280 |
| Vibrating Feeder | ZSW950×3800 | ZSW950×3800 | ZSW110×4900 | ZSW130×4900 | ZSW130×4900 |
| Main Belt Conveyor | B800×8.5M | B800×8.5M | B1000×9.5M | B800×11M | B1200×11M |
| Side-opening Belt conveyor(Optional) | B500×3.2M | B500×3.2M | B650×4M | B650×4M | B650×4M |
| Genset(Optional) (kw) | 320 | 320 | 400 | 320 | 440 |
| Iron Separator (Optional)(kw) | RCYD(C)-8 | RCYD(C)-8 | RCYD(C)-10 | RCYD(C)-8 | RCYD(C)-12 |
MOBLIE JAW CRUSHER TECHNICAL PARAMETERS
| | | | | |
| --- | --- | --- | --- | --- |
| Model | FTM938HD80 | FTM1149HD98 | FTM1349HD110 | FTM1349HD125 |
| Transportation Length(mm) | 12600 | 13500 | 14500 | 15200 |
| Transportation Width(mm) | 2600 | 2700 | 2800 | 2900 |
| Transportation Height(mm) | 3870 | 4200 | 4450 | 4500 |
| Maximum Length(mm) | 12500 | 14000 | 16100 | 16700 |
| Maximum Width(mm) | 4100 | 4500 | 5100 | 5100 |
| Maximum Height(mm) | 4100 | 4900 | 5000 | 5300 |
| Weight(t) | 39 | 57 | 55 | 65 |
| Tire Configuration | Dual-axial | Dual-axial | Dual-axial | Dual-axial |
| Jaw Crusher | HD80 | HD98 | HD110 | HD125 |
| Maximum Feeding Size(mm) | 500 | 550 | 660 | 800 |
| Discharge Opening Size(mm) | 50-150 | 75-175 | 100-200 | 125-225 |
| Capacity(t/h) | 85-275 | 110-350 | 215-510 | 280-650 |
| Vibrating Model | ZSW380×95 | ZSW420×110 | ZSW490×130 | ZSW490×130 |
| Main Belt Conveyor | B800×8.5M | B1000×9.5M | B1000×11M | B1200×11M |
| Side-opening Belt conveyor(Optional) | B500×3M | B650×3.5M | B650×4M | B650×4M |
| Genset(Optional) (kw) | 200 | 250 | 270 | 400 |
| Iron Separator (Optional) | RCYD(C)-8 | RCYD(C)-10 | RCYD(C)-10 | RCYD(C)-12 |