Detailed Description
Coal slime has high humidity and stickiness, and regarding this feature, Fote coal slime dryer adopts unique scattering device to first scatter the sticky coal slime and dry it, thus increasing the contact area of coal slime and hot air and greatly improving the heat utilization.

Fote coal slime dryer can reduce the water content of the slurry to below 12% in one time, and the dried coal slime can be directly used as fuel.The coal slime dryer or slurry dryer is mainly composed of heat source system, feeding system, conveyor system, drying system, dust collection system, air inducing equipment and electrical apparatus control system.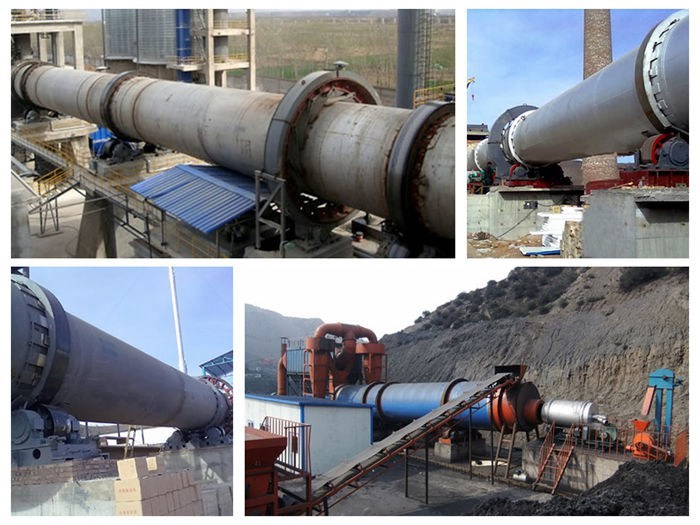 Features of Coal Slime Rotary Dryer
(1) Coal slime rotary dryer has strong anti-overload capacity, big processing capacity, low fuel consumption and drying cost.
(2) It adopts concurrent drying method, so that the smoke and the moist materials go into the dryer machine from the same side. Relying on the high-temperature smoke, the materials will get high evaporation intensity. The outlet temperature of the drying machine is low and the heat efficiency is high.
(3) According to the property of the materials, the running parameters of the dryer machine can be changed, so that the materials inside the dryer cylinder can form stable and whole section of material curtain to improve the mass and heat exchange.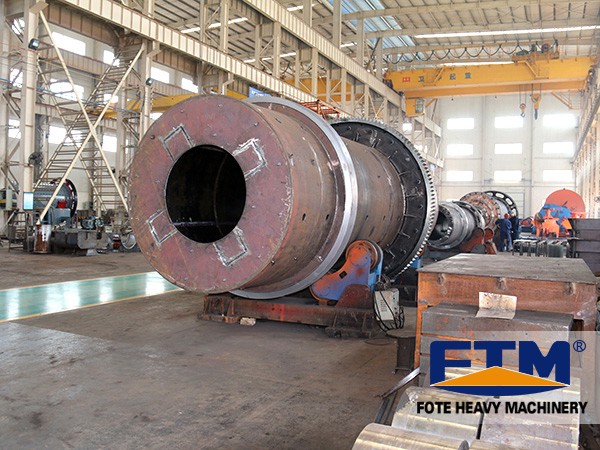 (4) It adopts new type of feeding and discharging device, thus completely eradicating feeding blockage, discontinuity, uneven and returning charge and reducing the load of the dust collection system.
(5) The new type of internal structure strengthens the clearance and heat conduction of the scattered materials and eliminates the stickiness of materials on the internal wall of the cylinder, so that it has stronger adaptability to the water content and stickiness of the materials.
(6) Coal slime dryer realizes zero horizontal thrust, thus greatly reducing the abrasion of the catch wheel and riding wheel and making the operation of the cylinder stable and reliable.
(7) Coal slime drum dryer adopts self-aligning riding wheel device, so that the matching of the riding wheel and the roller ring is always in a linear contact state, thus greatly reducing the abrasion and power consumption.
(8) According to the customers' requirement, it can control the product granularity and water content. The water content of the final products can reach below 8% and the granularity can be controlled to below 8mm.
Technical Parameters
Model(m)
(Diameter×Length)
Cylinder volume
(m³)
Production capacity
(t/h)
Installation inclination
(%)
Highest intake air temperature
(℃)
Main motor
(kw)
Total weight
(t)
Φ1.2×8.0
9.0
1.9~2.4
3~5
700~800
7.5
9
Φ1.2×10
11.3
2.4~3.0
3~5
700~800
7.5
11
Φ1.5×12
21.2
4.5~5.7
3~5
700~800
15
18.5
Φ1.5×14
24.7
5.3~6.6
3~5
700~800
15
19.7
Φ1.5×15
26.5
5.7~7.1
3~5
700~800
15
20.5
Φ1.8×12
30.5
6.5~8.1
3~5
700~800
18.5
21.5
Φ1.8×14
35.6
7.6~9.5
3~5
700~800
18.5
23
Φ2.2×12
45.6
9.7~12.2
3~5
700~800
22
33.5
Φ2.2×14
53.2
11.4~14.2
3~5
700~800
22
36
Φ2.2×16
60.8
13.0~16.2
3~5
700~800
22
38
Φ2.4×14
63.3
13.5~16.9
3~5
700~800
37
45
Φ2.4×18
81.4
17.4~21.7
3~5
700~800
37
49
Φ2.4×20
90.4
19.3~24.1
3~5
700~800
45
54
Φ2.4×22
99.5
21.2~26.5
3~5
700~800
45
58
Φ2.6×24
127.4
27.4~34.0
3~5
700~800
55
73
Φ3.0×20
141.3
30.1~37.7
3~5
700~800
75
85
Φ3.0×25
176.6
37.7~47.1
3~5
700~800
75
95
Φ3.2×25
201
42.9~53.6
3~5
700~800
90
110
Φ3.6×28
285
60.8~76.0
3~5
700~800
160
135