Detailed Description
Drum dryer is one of traditional dryer machines. This equipment has such advantages as reliable working condition, elastic operation, strong adaptability and high processing capacity, so that it is widely used in many fields such as metallurgy, building material, chemistry, coal washing, fertilizer, sand, ore, clay, kaolin and sugar.
The diameter of drum drier is 1000-4000mm, and the length can be determined according to the specific drying requirement. The moist materials that go inside the cylinder of the dryer machine will be repeatedly lifted and scattered by the lifting board on the rotating wall, and in the falling process, the materials will be crushed by the scattering device into fine particles whose specific area is greatly increased, and the fine materials will sufficiently contact the hot air and will be dried.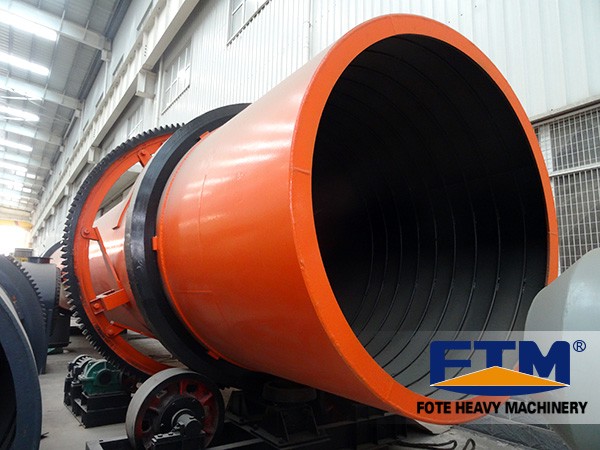 Product Features
Drum dryer machine has high processing capacity, low fuel consumption and low drying cost. Fote drum drier has heat resisting features, so that it is able to use high-temperature hot air to quickly dry the materials. It has strong expansion capacity, and the design takes the production margin into consideration, so that even the output increases, there is no need to change the equipment.
This drum drying machine adopts the structure of self-aligning tug which is excellently matched with the roller ring, thus greatly reducing the abrasion and power consumption. The specially designed catch wheel greatly reduces the horizontal thrust caused due to the slant of the equipment. Fote rattler-drying machinery has strong anti-overload capacity, stable operation and high reliability.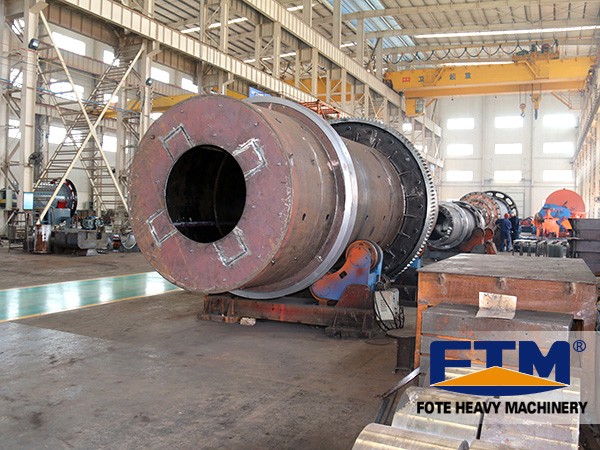 Application Range
(1) In chemistry, mine and metallurgy, drying ore, slag, coal, metal powder, clay, kieselguhr and kaolin.
(2) In agriculture, fodder and fertilizer industry, drying straw, grass, leaves, fish meal, corn sauce, starch residue, lees, medical, pomace, soy sauce residue, bagasse, peat, organic compound fertilizer, sludge, waste of aquatic products, food waste, the abattoir waste, organic fertilizer, inorganic fertilizer, phosphate fertilizer and ammonium sulphate.
(3) Dry powdery and granuluous materials with special requirement such as crystalline, light calcium carbonate, activated clay, magnetic powder, graphite, inorganic mud, argil, lime slurry, mineral slurry, phosphorus ore slag and red mud.
(4) Dry the materials that require to be dried with low temperature and need to be dried with large quantity and continuously.
Technical Parameters
| | | | | | | | |
| --- | --- | --- | --- | --- | --- | --- | --- |
| Length and Diameter | Volume | Reducer | Thickness (mm) | Weight (T) | Power(kw) | Fan power (kw) | Yield(t) |
| Φ 0.8 × 8 | 4 | JZQ350 | 8 | 3.2 | 4 | 4 | 0.5-2 |
| Φ 0.8 × 10 | 5 | JZQ350 | 8 | 3.7 | 4 | 4 | 0.5-2.5 |
| Φ 1 × 8 | 6.3 | JZQ350 | 8 | 4.5 | 5.5 | 4 | 1-2.5 |
| Φ 1 × 10 | 7.9 | JZQ350 | 8 | 5.2 | 5.5 | 5.5 | 1-3 |
| Φ 1 × 12 | 9.4 | JZQ350 | 8 | 5.7 | 7.5 | 5.5 | 1-4 |
| Φ 1.2 × 10 | 11.3 | JZQ400 | 10 | 9 | 11 | 7.5 | 1-4.5 |
| Φ 1.2 × 12 | 13.6 | JZQ400 | 10 | 10 | 11 | 7.5 | 1-4.8 |
| Φ 1.2 × 14 | 15.8 | JZQ400 | 10 | 11 | 11 | 7.5 | 1-5 |
| Φ 1.2 × 16 | 18 | JZQ400 | 10 | 12 | 11 | 7.5 | 2-6 |
| Φ 1.5 × 12 | 21.2 | JZQ500 | 12 | 14.4 | 11 | 7.5 | 2-9 |
| Φ 1.5 × 14 | 24.7 | JZQ500 | 12 | 15.6 | 15 | 11 | 2-9.5 |
| Φ 1.5 × 16 | 28.3 | JZQ500 | 12 | 16.8 | 15 | 11 | 2-10 |
| Φ 1.8 × 14 | 35.6 | JZQ500 | 16 | 23 | 18.5 | 15 | 5-11 |
| Φ 1.8 × 16 | 40.7 | JZQ500 | 16 | 24.5 | 18.5 | 15 | 5-12 |
| Φ 1.8 × 18 | 45.8 | JZQ500 | 16 | 26 | 18.5 | 15 | 5-13 |
| Φ 2 × 18 | 56.5 | JZQ650 | 18 | 31 | 22 | 18.5 | 5-15 |
| Φ 2 × 20 | 62.8 | JZQ650 | 18 | 33 | 30 | 22 | 5-16 |
| Φ 2 × 22 | 69 | JZQ650 | 18 | 35 | 30 | 22 | 5-17 |
| Φ 2.2 × 18 | 68.3 | JZQ650 | 20 | 38 | 30 | 22 | 8-18 |
| Φ 2.2 × 20 | 75.9 | JZQ650 | 20 | 42 | 30 | 22 | 8-19 |
| Φ 2.2 × 22 | 83.5 | JZQ650 | 20 | 46 | 30 | 22 | 8-20 |
| Φ 2.2 × 24 | 91.1 | JZQ650 | 20 | 50 | 30 | 22 | 8-21 |
| Φ 2.4 × 16 | 72.3 | JZQ650 | 22 | 45 | 37 | 30 | 10-20 |
| Φ 2.4 × 20 | 90.4 | JZQ750 | 22 | 51 | 45 | 37 | 10-22 |
| Φ 2.4 × 24 | 108.2 | JZQ750 | 22 | 60 | 55 | 37 | 10-25 |
| Φ 2.4 × 28 | 126.6 | JZQ750 | 24 | 67 | 75 | 55 | 10-30 |
| Φ 2.7 × 18 | 1.03 | JZQ750 | 24 | 55 | 75 | 55 | 15-25 |
| Φ 2.7 × 24 | 137.3 | JZQ750 | 24 | 68 | 75 | 55 | 15-30 |
| Φ 3 × 20 | 141.3 | JZQ900 | 25 | 81 | 75 | 55 | 25-30 |
| Φ 3.2 × 20 | 160 | JZQ900 | 25 | 95 | 90 | 55 | 25-35 |
| Φ 3.2 × 28 | 225 | JZQ900 | 25 | 101 | 90 | 75 | 25-40 |
| Φ 3.5 × 24 | 230 | JZQ900 | 25 | 120 | 110 | 75 | 30-50 |